TRUCK ACCIDENTS ATTORNEYS IN OVERLAND PARK, KANSAS
Hiring a truck accident attorney is one of the smartest moves you can make following a trucking accident. In part one of our trucking accident series, we looked at the top causes of these collisions. In part two, we answered some of your most asked questions regarding these crashes. Now, in part three of our series, we will share why it's vital to your case that you hire an experienced truck accident attorney. At Biesterveld & Crook, LLC, our attorneys are ready to provide the representation you need in Overland Park, Olathe, and the greater Kansas City metro area.
Benefits of Hiring a Truck Accident Attorney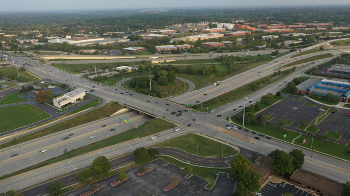 Large trucks can cause significant damage to roads and buildings, so just imagine what they can do to your car. Vehicle collisions of this caliber often include more factors than in a personal vehicle collision. Hiring a truck accident attorney ensures none of these details get overlooked, which in turn gets you the maximum compensation you deserve.
Trucking companies often have their own teams of attorneys who are experienced in battling injured victims in these types of cases. They will do everything they can to protect themselves from paying for their negligence. An experienced trucking accident lawyer will know how to combat any attempts to mitigate your damages.
Spoilation of Evidence
Evidence in a truck accident can include vehicle damage, camera footage, witness accounts, and much more. As trucking accidents often are larger cases, there is also often a larger amount of evidence. A truck accident attorney will ensure that none of this evidence is destroyed or tainted in any way. There are various ways to do this, most often starting with a spoilation of evidence letter to the trucking company and its insurance provider.
Destroying or hiding the evidence helps the trucking company to avoid liability for the accident. Your attorneys at Biesterveld & Crook, LLC can take the necessary steps to ensure all of the evidence remains preserved.
When to Hire a Trucking Accident Attorney
The sooner you hire an attorney, the better! Time is of the essence in any personal injury case, but especially in trucking accidents. Marks on the roadways can fade over time and vehicles often are removed and repaired quickly. For the best chance at optimal results, you should call a truck accident lawyer as soon as possible. Delaying the process can only give the trucking company a larger advantage over you.
To schedule your free consultation with our experienced injury attorneys, call or click here. We proudly serve Overland Park, Olathe, and all of Kansas City with skilled representation as we fight for your rights and for fair compensation after a truck accident. Check back on Monday, July 8th as we conclude our trucking accident series by examining theories of liability in these cases.