DOG BITE ATTORNEYS IN OVERLAND PARK, KANSAS
Victims of domestic animal attacks or dog bites can face a mountain of medical bills, time away from family and work, and permanent injuries. While dogs are the most common culprit, they are not the only domesticated animal that can cause serious injuries from an attack or bite. Cats, snakes, horses, and cattle are a few of the animals that personal injury attorneys see in animal attack or bite cases. The following information is to aid victims of these attacks in protecting their right to be compensated for their injuries resulting from a negligent pet or livestock owner.
Gather as Much Evidence as Possible
It is critical to gather evidence to support an injury claim for an animal attack or dog bite. Take pictures of the animal and the injuries it causes and keep all medical records relating to medical treatment. Any correspondence with the animal's owner should also be kept. It is also helpful to record what occurred immediately before and after the animal attack or dog bite in a journal to reduce the risk of forgetting important facts.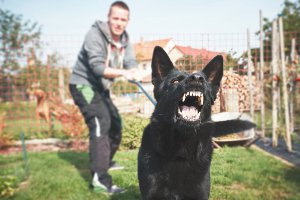 Due to the one-bite rule, discussed below, it is beneficial to gather any information on the dog or animal's violent tendencies. Keep or record any information that can be used to suggest the animal's owner knew of the animal's violent propensities. Asking the owner about the animal's violent tendencies or speaking with the owner's neighbors is a good starting point to gather this information.
An experienced personal injury attorney will conduct investigations and research the facts surrounding an animal attack to ensure their clients receive the full compensation they deserve. The injury attorneys at Biesterveld & Crook, LLC conduct these investigations without any upfront cost to the clients, so they can focus on recovering from their injuries.
Contact an Injury Attorney Experienced in Dog Bite / Animal Attack Claims
Contact an experienced personal injury attorney as soon as possible to make sure the claim is handled properly.
When meeting with a personal injury attorney for an initial consultation, it is important to be prepared. Preparing a timeline of the events can aid in keeping thoughts in order. This also gives the attorney a better sense of the exact events that took place, so they can best assist you. Any details that can be provided with this timeline are also often appreciated, such as the location of the attack, the dog owner's name, and any known knowledge of this animal's past tendencies. Also, be sure to bring all documentation and information to that initial case evaluation.
An experienced personal injury attorney can advise whether an animal attack or dog bite claim is worth pursuing. They will likely know the outcome of a claim after investigating and researching the claim further. They will also consider whether the one-bite rule is applicable and will consider who is liable for the attack.
Who is Liable?
As with any case, it often depends on the specific situation when attempting to determine who is liable for the attack. The owner of the animal is often the first to be investigated as being responsible for the injuries resulting from the attack. However, other individuals, such as landlords, property owners, or temporary caretakers could be held liable as well.
The One Bite Rule
Cornell Law School defines the one-bite rule as "a rule that says that the owner of a domesticated animal will be held strictly liable for injuries caused by the animal only if the owner knew or should have known about the animal's dangerous or vicious propensities, which have manifested in the past". In these one-bite rule situations, the person who has been injured by the animal is tasked with proving that the animal owner possessed the knowledge of the animal's vicious nature.
Kansas adopted this in 1897. Mills v. Smith, 9 Kan. App. 2d 80, 673 P.2d 117 (Kan.App. 1983); Carl, Administratrix v. Ackard, 114 Kan. 640, 644, 220 P. 515 (1923); Hahn v. Kordula, 5 Kan. App. 142, 48 Pac. 896 (1897); see also PIK Civ.2d 12.91.
Other states currently adhering to the one-bite rule include North Dakota, South Dakota, Arkansas, and Wyoming.
As for Missouri, the state operates under a strict liability statute. This means the dog owner is strictly liable, regardless of whether the dog has ever bitten anyone in the past. Other injuries resulting from aggressive dogs, such as falls or scratches, are not covered under this statute though. Other states that have similar legislation in place include Illinois, Indiana, Colorado, and Nebraska.
Why Hire a Dog Bite Lawyer?
The attorneys at Biesterveld & Crook, LLC successfully represent victims of various animal attacks. We offer free consultations for personal injury cases, such as dog bite or dog attack cases. Biesterveld & Crook, LLC will help to ensure the best possible outcome for an animal attack injury claim by performing initial research at no cost to the client, answering client emails and calls in a timely manner, and putting the needs and desires of clients first.
There is no upfront cost in hiring one of our experienced dog bite lawyers. We receive a percentage of the settlement when the claim is settled. This means if you don't get paid, we don't get paid.
Biesterveld & Crook, LLC personal injury attorneys are dedicated to producing optimal results for our clients, so they can be compensated for their distress and injuries and resume their lives with less stress following their injury claim.