CAR ACCIDENT ATTORNEYS IN OVERLAND PARK, KANSAS
Have You Suffered Injuries in A Car Accident?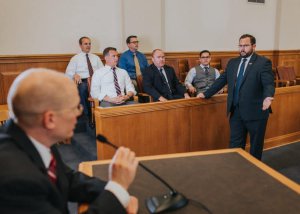 If you have suffered injuries in a car accident caused by a bad driver, you may be entitled to compensation for property damage, medical bills, lost wages, pain, suffering, and loss of time.
Unfortunately, obtaining fair compensation from large insurance corporations is a challenge. Insurance companies will do whatever they can to delay or deny your claim, hoping you give up.
Avoid common mistakes like providing a recorded statement or waiting to seek medical treatment, which the insurance company will use against you to deny your claim. It's important to file a police report and receive medical treatment immediately following a car accident. Click here to learn what to do and what mistakes to avoid if you've been in an accident.
As you continue to heal from your injury, don't forget to hire an attorney as soon as possible. Contact skilled car accident attorneys at Biesterveld & Crook, LLC in Overland Park, KS to review your options and make an informed decision going forward.
What Are the Leading Causes of Car Accidents?
The National Safety Council (NSC) reports that 90% of crashes are caused by human error.
Here are some of the most common behaviors that lead to car accidents:
Distracted driving

Drunk driving

Speeding

Reckless driving

Failure to keep a proper lookout
When someone causes a car accident due to reckless behavior behind the wheel, they should be held accountable for the damages they cause. The injury attorneys at Biesterveld & Crook, LLC strive to make roads safer for our families by holding bad drivers and their insurers accountable.
What Should I Do After a Car Accident?
Call 911. Police and emergency medical teams should be on the scene as soon as possible following an injury accident. Police will begin investigating the accident and gathering evidence that is critical to your claim. Emergency medical teams will do a quick evaluation and transport the injured to an emergency room to be treated or cleared for life-threatening injuries.

Seek medical attention and follow up as instructed. Emergency room personnel will treat life-threatening injuries and run diagnostic tests to give you the best advice on how to recover from the car accident. It is important to read and follow discharge instructions provided by the emergency room.

Call the experienced car accident attorneys at Biesterveld & Crook, LLC. Even the playing field by hiring an experienced car accident attorney to prosecute your claim. By doing so, you can focus on what matters most – getting back to full health.
What Can a Car Accident Attorney Do for Me?
Our car accident attorneys act quickly to gather important evidence before it is lost. We interview witnesses, pull traffic camera footage, request the accident report, and, when necessary to prove fault, pull data from the airbag control module for accident reconstruction.
Our attorneys can also recommend the best health care providers for your unique needs. Some health care providers do not want to provide treatment for someone using third-party insurance. We work with doctors, physical therapists, radiologists, and other health care providers who understand the difficulty of proving a case to a third-party insurance company.
Perhaps most importantly, the injury attorneys at Biesterveld & Crook, LLC challenge the third-party insurance companies that refuse to pay fair compensation to our clients. When this happens, we counsel our clients on their legal rights and options. In some cases, our clients as that we file a lawsuit against the other driver and proceed with litigation until the insurance company agrees to pay fair compensation or, in rare cases, a jury trial.
See our blog "When Should I Hire a Car Accident Attorney?" for more information about when and why you should hire an experienced car accident attorney.
What Losses Can I Claim from A Car Accident?
The majority of damages in car accident cases are "compensatory". This means that the damages are meant to compensate the injury victim for his losses caused by the accident. While some are easy to quantify, other damages are more difficult to put a number value on, such as pain and suffering. Here are some compensatory damages commonly allowed in car accident cases:
Medical treatment – Payment for your medical treatment is a large part of any injury claim. Every injury victim deserves to be compensated for past treatment, as well as any future treatment that is needed.

Lost income – Injuries often lead to missed time at work. Whether it is for recovery from the initial accident or time off for surgery or even just to attend appointments – you deserve compensation for missing work.

Pain and suffering – Pain resulting from the injuries you suffer in an accident can be agonizing, especially if it is never truly resolved after treatment. In these instances, you are entitled to additional compensation.
If the defendant's conduct at the time of the accident is deemed careless or reckless, punitive damages may also be awarded on top of the compensatory damages. The goal with these damages is to punish the defendant for their actions and hopefully deter them from behaving in the same manner in the future. Click here to check out our blog from our distracted driver series where we go into detail about punitive damages.
How Is Fault Determined in A Car Accident?
Fault is often disputed by the other driver and his insurance company. Every bit of evidence can play a role in determining fault. Evidence includes the statements and diagrams contained in the police reports, traffic camera footage of the wreck, and pictures of property damage that are used to determine fault.
In some cases, it is necessary to pull data from the airbag control module to reconstruct the accident. Our attorneys have experts on call to pull this information and provide a report that explains how the accident happened. In several cases, this report has been the determining factor in whether the other driver's insurance company pays for our client's damages.
What Is the First Step to Hiring a Car Accident Attorney?
Call Biesterveld & Crook, LLC or visit our office near downtown Overland Park, Kansas. We will build the strongest case for you by dealing directly with the insurance companies, finding the best health care providers, gathering witness statements, traffic footage, police records, medical records and bills, and, when necessary, hiring the best car accident reconstruction experts.
Our goal at Biesterveld & Crook, LLC is to ensure that you receive fair compensation for your vehicle, the best medical treatment, and maximum compensation for medical bills, lost wages, pain, suffering, future medical expenses, loss of time, and any other loss resulting from the accident. Our experienced car accident lawyers will take your car accident case seriously and investigate all aspects of the case in order to maximize your recovery.
How Much Does a Car Accident Attorney Cost?
There is no upfront cost in hiring one of our experienced car accident lawyers. Our fee is a percentage of what we recover for you, so there are no legal fees until you decide to accept a settlement offer. Our attorneys offer competitive rates based on an initial evaluation of your case, which sets us apart from most attorneys. If you live in Overland Park, Olathe, Shawnee, and the greater Kansas City area, reach out now to schedule a consultation.
If you have been injured in a car accident, speak with an experienced injury attorney at Biesterveld & Crook, LLC or contact us online.