Hundreds of Crashes on Two-Mile Stretch of K-10 in Last Decade
---
A total of 569 motor vehicle collisions have been recorded in the last decade on a two-mile portion of K-10, between Renner Boulevard and Woodland Street. In 2019 alone, as of mid-May, 54 crashes have occurred on this stretch of highway.
The Kansas Department of Transportation created the following image to show the yearly totals of crashes for this small portion of K-10.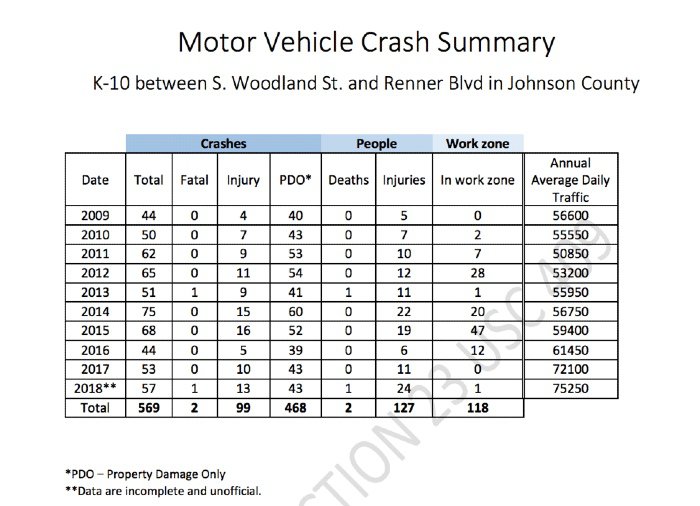 While the number of fatalities is low, two have occurred in the past two years. Most recently, a 19-year-old Kansas man was killed after crashing into the back of a semi-truck trailer last month.
Contributing Factor – K-10 Construction
Road construction is currently underway on K-10 to preserve the bridge over Woodland Road. This construction often brings drivers to a stop during increased traffic. After the fatal crash in May, additional signage is now displayed near the construction zone to warn drivers of the reduced speeds.
Increased traffic and inattentive driving are thought to be the top reasons for accidents in this area. Over the past decade, the daily traffic count in this area has grown by 20,000 cars.
Kansas Department of Transportation spokesperson for Kansas City, Mike Quizon said 85% of the crashes reported in the work zone area are because the driver was going too fast or wasn't paying attention.
Free Legal Consultations for Injured Drivers
If you are injured in a car accident, the experienced attorneys at Biesterveld & Crook, LLC can help. Our lawyers offer free consultations to anyone injured in a car, motorcycle or truck accident. Call or click here to schedule your free consultation with our experienced personal injury attorneys today!